Child health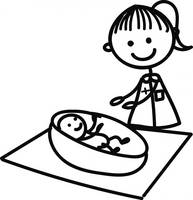 The WA Country Health Service has a specialised team of Community Child Health Nurses who support parents in their parenting journey by:
Providing information, support and professional guidance to parents in country Western Australia;
Providing child health and developmental assessments to every child in country Western Australia at key developmental ages; and
Referring babies or children to tailored and specialist programs where required, in order to support parents/carers to optimise the child's health outcomes.
Find out more about the role of our Community Child Health Nurses by visiting the Healthy WA website.
Meeting with your local Community Child Health Nurse
Your local Community Child Health Nurse will be in contact with you shortly after your baby is born to organise your first appointment.
If you don't have an appointment with a Community Child Health Nurse, or if you have recently moved you can call to schedule your free appointment. Details of how to contact your local Child Health Nurse can be found at the front of your purple book. Alternatively, you can click on your region below to find the details of your local child health and immunisation services.
Immunisations and vaccinations
What are vaccinations?
Vaccinations are medicines that are administered to produce immunity to infectious diseases.
Find out more information about immunisation and vaccinations.
Immunisation schedules
Find out more about the childhood immunisation schedule or look at the "My appointments" section in your purple book.

Childhood Immunisation Schedule - click to enlarge




Parenting groups
Early Parenting Program
A five week program to assist new parents with the demand of becoming a parent for the first time and to make this time enjoyable.
Boodjari Yorgas

Boodjari Yorgas is a program which is run in selected regions across Western Australia. The program delivers antenatal and child health services in a culturally appropriate manner, in consultation with the Aboriginal and Torres Strait Islander community. Contact your local Child Health Nurse to see if this program, or a similar program is running in your area.

Solid Start/Introduction to Solids
An information session for parents, with children aged 3-6 months, on introducing solids. Find out why and how solids are introduced; how much food and which foods to start with; and allergies and intolerances.
Circle of Security
An eight week program (two hours per week) for parents/carers of children aged 0-5 years.What you will learn:
Understand your childs emotional world by learning to read their emotional needs.
Support your child's ability to successfully manage emotions.
Enhance the development of your child's self-esteem.
Honour your inner wisdom and desire for your child to be secure.
Triple P (Positive Parenting Program) Seminar Series
For parents and carers of children aged 3-8 years. These short seminars will leave you feeling confident to deal positively and effectively with common child behaviours and emotional issues.

You can attend just one, two or all three seminars.

Find out more about the Triple P program, and details of upcoming sessions by visiting Triple P Parenting in WA.
Country Families @ Ngala
WA Country Health Service has partnered with Ngala to pilot the delivery of statewide child health and parenting services through media and technology. The pilot was developed to connect with consumers close to home and meet the needs of rural and remote parents and caregivers who may have limited access to services


Country Families @ Ngala delivers child health and parenting services through technology using the following strategies:

Country Early Parenting Group(via video conferencing) for families with a baby 0-4 months:

Runs for four weeks, every Tuesday at 2pm – 3.30pm. Parents can register here.

Video conferencing or telephone Consults

Half hour consults. Running most afternoons. Register here.

Facebook Group – CountryFamilies@Ngala

Live Chat: via the Ngala website. 9am -12pm, Monday to Friday.

Online Workshops: Thursday afternoons at 2pm on a variety of parenting topics: sleep, feeding, behaviour, toileting, managing a baby and toddler.
Better Health Program
The Better Health Program is a free healthy lifestyle program for children aged 7-13 years who are above a healthy weight. The program runs for 10 weeks with the school term and is available online across regional WA. Families participate in the program to learn essential skills to support healthy changes to their eating and physical activity habits. The program involves:
- interactive online modules
- weekly phone support with a health professional
- resources and freebies
For further information, call 1300 822 953 or register a child on the Better Health Program website.
To find out more about these and other parenting groups running locally in your area visit your local Facebook page or contact your local Child Health Nurse.
Child development
WA Country Health Service (WACHS) offers a range of free child development services for families of children from birth to 18 years of age.
Developmental stages – what should I expect from my child?
Remember that every baby and child is unique. The following information gives some guidance around expected developmental milestones, but it is important to remember that every baby develops at different rates.
What other support can I access?
If you have concerns or questions about your child's development it is best to seek help and information early. You can talk to your Child Health Nurse or General Practitioner, or you can contact your local Child Development Service.