Emergency Telehealth Service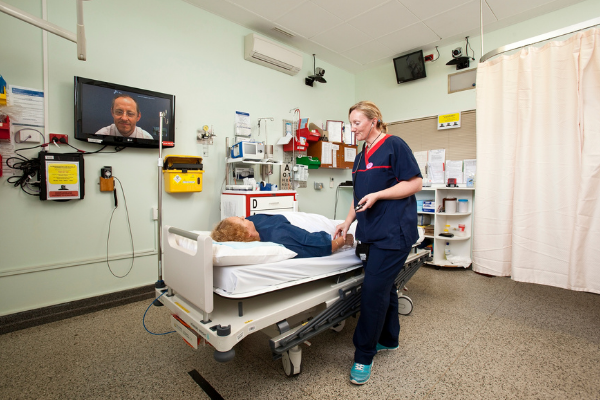 The Emergency Telehealth Service (ETS) is run by the WA Country Health Service to provide specialist emergency medical support to doctors and nurses in country Western Australia by video and voice call. It is available 24 hours a day, seven days a week to almost 80 small hospitals and nursing posts around the state.
The ETS helps address the challenge of providing access to specialist emergency care in smaller regional and remote health centres located across WACHS's 2.5 million square kilometre reach – an area almost the size of Argentina. These centres don't have enough emergency presentations to sustain the full-time emergency medicine specialist teams which are normally based in larger centres.
The ETS is ensuring regional and remote patients receive the same access to emergency medicine specialists as city patients. It helps local country clinicians to save lives and provide an emergency response for critically ill and injured patients. It is believed to be the only dedicated round-the-clock emergency medicine support service available by videoconference in the world and as such is attracting interest from other countries as an exemplar.
The ETS was developed with support from the WA Government's Royalties for Regions program and is aimed at improving access to medical experts, in particular emergency medicine specialists.
What is the Emergency Telehealth Service?
The ETS is a telehealth service provided by emergency medicine specialists using high definition videoconferencing equipment installed in participating small country hospitals and nursing posts. The ETS supports doctors and nurses in these rural and remote sites by linking them to experienced, specialist emergency doctors to assist with the diagnosis, treatment and transfer of critically ill and injured emergency patients.
The ETS is particularly valuable where there is no on-call doctor available to smaller regional hospital sites and nurses need to access a doctor. The ETS provides a greater level of medical support to regional areas and helps build knowledge and expertise of all regional clinical staff by supporting their professional development and reducing their professional isolation.
The objectives of the ETS are to:
Improve access to timely medical advice for emergency patients
Provide accessible, accountable emergency medicine advice
Provide effective, appropriate diagnosis and treatment in local hospital emergency departments, keeping patients closer to home
Support rural clinicians to provide the right care at the right time where possible, close to home.
How does the technology work?
Telehealth provides two-way audio and high definition videoconferencing between a country hospital or nursing post emergency room and the treating ETS emergency medicine specialist in Perth.
The telehealth equipment, including a video screen and remote controlled camera which the ETS doctor can use to zoom in on a patient, is installed in resuscitation bays at participating sites. It enables the ETS doctor to examine and talk to patients, and to guide local clinical staff in physical examinations and specialist emergency treatments.
Map of ETS sites in regional WA
WACHS, ETS Administration (office hours)
Phone: 9224 3848 Fax: 9224 3873
Email: ETS.WACHS@health.wa.gov.au
ETS facts and figures (as at April 2018)
ETS is currently provided at 79 hospitals, health services and nursing posts across the Wheatbelt, Great Southern, Goldfields, South West, Kimberley, Pilbara and Midwest regions.
More than 65,000 patient consultations have been conducted via the ETS since its introduction. Three quarters of these patients have received treatment at their local health centre and been discharged home, reducing the numbers of patients having to be transferred by road or air to a larger centre to see a doctor.
The ETS is predominantly staffed by Fellows of the Australasian College for Emergency Medicine (FACEMs) who have extensive training and expertise in examining, diagnosing and treating emergency patients.
The ETS also has a small number of non-specialist doctors, generally GPs or other medical officers, who have extensive emergency department experience and have worked in WA Country Health Service sites previously.
ETS emergency doctors are available 24 hours a day, seven days a week to all of the hospitals.
As well as the provision of emergency support, the ETS provides educational and upskilling opportunities for nurses and GPs working in rural emergency departments utilising a 'virtual classroom' to run statewide education sessions.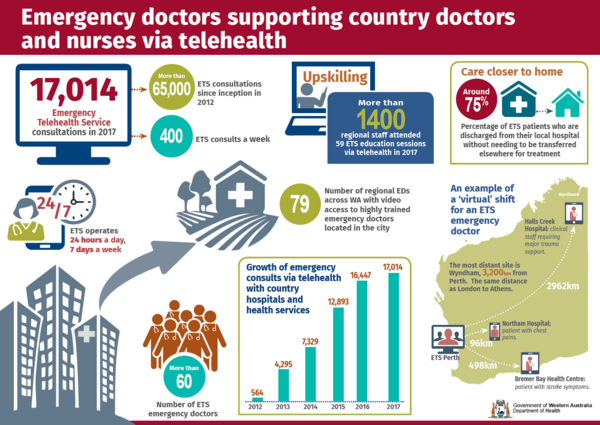 Click on the infographic above to view PDF version.
ETS in the media
2018
2017
2016
Tech boosts health care (PDF) (Mid-West Times Nov)
Patients benefit from virtual emergency care (PDF) (Broome Advertiser)
The extraordinary technology that could be the difference between life and death... (Today Tonight, June)
2015
Emergency Telehealth Service on Today Tonight 18 November 2015 (video courtesy of Today Tonight 7)
Emergency Telehealth Service expands across the state (GWN story)
Hands on health by remote: the Emergency Telehealth Service (ABC South West WA web article)
2014
Powering people in the country – the Wi-Fi doctor service (The Guardian web article)
WA to extend virtual ED telehealth service (Pulse+IT web article)
Emergency Telehealth Service takes out 'Improving Government' award (Heartlands Wheatbelt newsletter)
2013
Virtual emergency department expands in regional WA (ABC Rural – WA Country Hour)
Virtual ED expands in regional WA (Media Statement from the Minister for Health Kim Hames)