Command Centre
WA Country Health Service Command Centre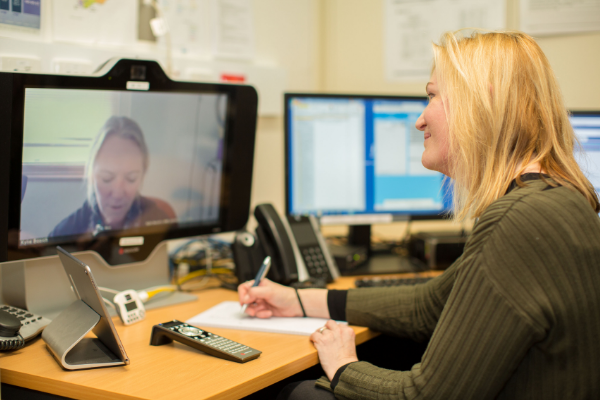 Changing technology creates opportunities to improve health care, particularly in country WA where vast distances, smaller populations and diverse community needs bring unique challenges.
The latest innovation in country health care is the WA Country Health Service Command Centre which brings together new and existing emergency and specialty services in a 24/7 'virtual' clinical hub.
Using videoconferencing and high-tech information technologies, the Command Centre is expanding the range of timely specialist advice and support available to front-line clinicians caring for country patients.
The Command Centre delivers a digitally enabled, flexible and dedicated specialist clinical workforce available to WA Country Health Service hospitals and nursing posts in real-time, supporting country doctors and nurses, improving outcomes for patients and keeping care closer to home.
The development of the Command Centre is a WA Country Health Service Digital Innovation Strategy priority, with the development and clinical workforce components being resourced through the State Government's Country Health Innovation (CHI) funding.
The functions of the Command Centre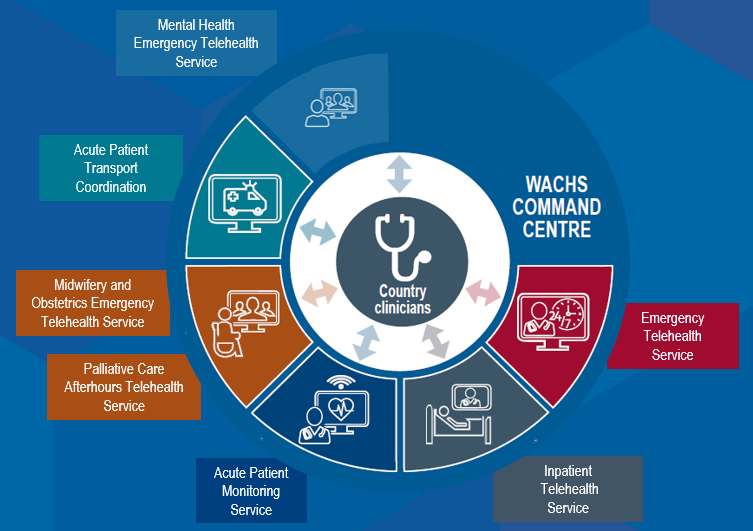 Emergency Telehealth Service
Since its introduction in 2012, the Emergency Telehealth Service has transformed emergency care for patients presenting to WA Country Health Service emergency departments, nursing posts and Silver Chain facilities.
The Emergency Telehealth Service supports WA's country doctors and nurses by providing 24/7 access to specialist emergency clinicians by videoconference. This means when a patient presents to one of the 80 ETS enabled country hospitals or health services, they are getting access to specialist emergency department expertise.
Video: Emergency Telehealth Service - Scenario 1 (YouTube)
Video: Emergency Telehealth Service - Scenario 2 (YouTube)
Inpatient Telehealth Service
The Inpatient Telehealth Service was introduced in 2018 to provide virtual ward rounds to patients admitted to our country hospitals when the
Often these patients only require a short stay in hospital, but if the local GP is away, they may need to be transferred to another facility to be monitored. The Inpatient Telehealth Service can help avoid the need to transfer inpatients long distances for short inpatient stays allowing them to be admitted to their local hospital. Since the introduction of the Inpatient Telehealth Service in country WA, around 93 per cent of inpatients have avoided the need to be transferred at any time during their hospital stay. local GP is unavailable.
Video: Inpatient Telehealth Service (YouTube)
Mental Health Emergency Telehealth Service
Country patients face significant challenges in accessing appropriate and timely support to manage acute mental health, alcohol and drug conditions, particularly after hours.
The Mental Health Emergency Telehealth Service provides WA country doctors and nurses with access to specialist mental health nurses and psychiatrists via video conference, to assist in caring for people presenting to one of our 80 Emergency Departments with acute mental health, drug and alcohol conditions.
Video: Mental Health Telehealth Service (YouTube)
Acute Specialist Telehealth Service
The Acute Specialist Telehealth Service uses new and streamlined technologies to enable three-way videoconferencing to provide country clinicians and their patients with access to a range of specialists, such as midwifery, obstetrics, and paediatrics.
Midwifery and Obstetrics Emergency Telehealth Service (MOETS)
The Midwifery and Obstetrics Emergency Telehealth Service (MOETS) is a 24/7 service that supports country clinicians caring for antenatal and intrapartum patients across our hospitals and health sites.
MOETS provides support in the following areas:
Consultant obstetrician advice via the regional on-call system

Maternal and neonatal transfers

Clinical policy advice and guidance

Care planning advice and decision-making

Escalation of care and clinical conflict of opinion

Second clinician reviews of Cardiotocographs (CTGs)

Second opinions

Perinatal loss and bereavement care advice

Virtual bedside support during obstetric emergencies

Support to non-birthing sites for unplanned maternity and gynaecological presentation
Palliative Care After Hours Telehealth Service (PalCATS)
PalCATS is an initiative aiming to enhance palliative and end-of-life care for Western Australians living in regional and rural areas. This is an after-hours nurse led service that offers access to senior palliative care nurses via telehealth. PalCATS supports country clinicians by providing advice, education and mentoring.
Acute Patient Transport Coordination
An Acute Patient Transport Coordination centre will be developed to oversee safe, timely and efficient patient transport to and from regional and metropolitan hospitals for admitted country patients.
Advanced Patient Monitoring System
The Advanced Patient Monitoring System will use advanced technologies and real-time information to support doctors and nurses in detecting and responding to unwell patients in country hospitals and nursing posts.
This may include Artificial Intelligence (AI) which can assist with early detection of deteriorating patient conditions and ensure the information is easily accessible to the doctors and nurses treating the patient.
Why a Command Centre?
The six functions of the WA Country Health Service Command Centre have come together into an integrated, one-stop-shop that supports doctors and nurses in country hospitals and nursing posts by providing ready access to specialist clinicians who use technology, videoconferencing and real-time data to assist in delivering quality patient care.
What are the benefits for patients?
Improved patient outcomes – your local treating clinician has real-time access to highly specialised clinical advice and support.
Safer, better coordinated care – early warning technology, high-level assessment and treatment advice.
Care closer to home and family – fewer transfers to other hospitals, but when required, country transport will be more timely and efficient.


Resources
Snapshot: The WA Country Health Service Command Centre
Click on graphic above to open PDF version
Want to know more about telehealth?
Visit the telehealth page for more information about the service and its benefits to patients, clinicians and the community.