Completed project - South West Radiation Oncology Service Centre

Project overview
The South West Radiation Oncology Service Centre is a radiotherapy centre that enhances treatment services in the South West and offers care closer to home for many cancer patients.
For many cancer patients, this means they will no longer have to travel to Perth for radiotherapy treatment.
The purpose built facility has been established as part of Bunbury Hospital on the South West Health Campus.
The Commonwealth Government contributed $6 million to the $15.2million cost of the project.
Services
The South West Radiation Oncology Service Centre began providing services in mid-2011.
Treatment is mainly provided for the most common cancers in the South West region such as cancer of the breast, colon, lung, and prostate, as well as palliative treatments for symptom control. These cover about 70% of all people needing radiotherapy.
Most patients who require radiotherapy will attend the centre as outpatients on a daily basis. Occasionally treatment will be provided to inpatients of the South West Health Campus.
The Bunbury centre operates in conjunction with a major cancer centre in Perth where more complex cases and treatment are provided. Radiotherapy services for children will continue to be delivered in the metropolitan area.
Initially the service is expected to cater for around 500 patients per year and, with the expected growth of the population, this is estimated to increase to around 670 patients per year by 2021.
Facilities
The new radiotherapy centre has been built on the South West Health Campus and is located close to the main entrance to Bunbury Hospital. The centre has dedicated patient parking and is close to the public transport services on site.
The new centre includes two radiotherapy bunkers to house the specialised linear accelerators used to deliver treatment to cancer patients. Currently one linear accelerator has been installed, with provision for a second linear accelerator to be installed as service demand increases.
The centre also includes a clinic with consultation facilities, patient treatment rooms, dedicated patient reception and waiting areas, as well as staff and support services areas.
A corridor linking the new centre with the old hospital building was created for ease of access and a dedicated ambulance entry was established.
Disclaimer: The photographic representations of the finished project provided on this website are indicative of materials and construction only.
Planning and development
A Project Working Group, made up of senior WA Country Health Service staff, architects, engineers, project managers, support staff, private health care providers and consumer representatives, was established to oversee the project.
Development
The development of the South West Radiation Oncology Service Centre was a complex planning, building and engineering process.
A Project Working Group was established to oversee this project and to ensure that all the necessary service planning, design and operational aspects of the centre were addressed in order to ensure high quality facilities and services for the people of the South West.
The Project Working Group was made up of senior clinical and executive staff, together with experienced architects, engineering consultants, project management and support staff. The group also included representatives from St John of God Health Care as well as a consumer representative.
WA Country Health South West staff worked in collaboration with Royal Perth Hospital and the planners for Fiona Stanley Hospital. Royal Perth Hospital is a major provider of radiation oncology services and Fiona Stanley Hospital is a major cancer centre. Refer to plans below.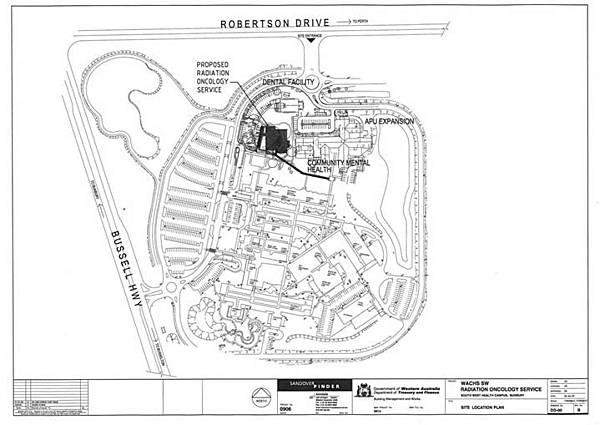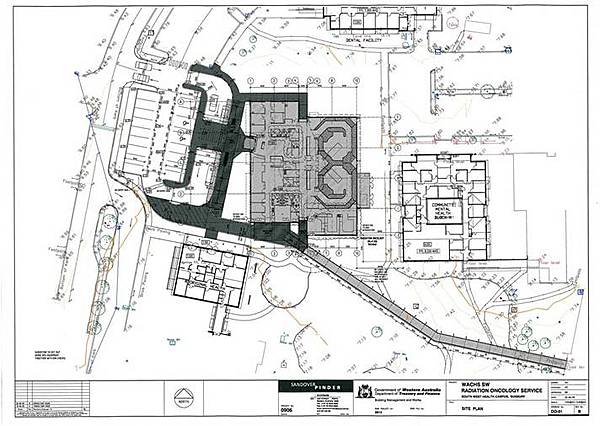 A key aspect of the planning for the South West Radiation Oncology Service Centre and the delivery of future radiotherapy services was the attention given to engagement with key stakeholder groups. This ensured they were involved and remained fully informed about the development, timelines, progress and their future roles and opportunities.
Since the announcement of the project in March 2009, there was consultation and user group discussions with an extensive range of groups and individuals who may have had direct involvement with or who may be affected by the development of the new radiotherapy centre.
This has included:
rural and metropolitan cancer services specialist staff
South West based medical, nursing and allied health staff
voluntary and non-government cancer services support and consumer groups
local government
private health care and diagnostic services providers
South West Health Campus-based service providers.
News
Have your say on health services
Service planning is currently underway in a number of communities across regional Western Australia. Find out how to have you say.