WACHS rolls out state-of-the-art foetal monitoring system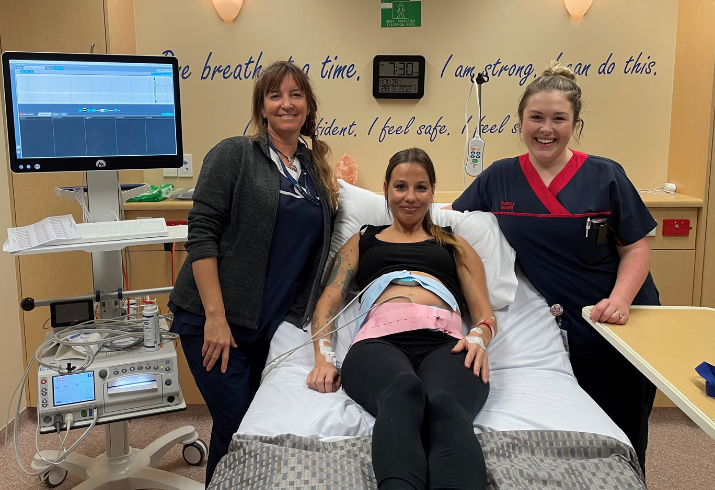 Expectant mum Latoya with Midwives Charlene and Sophie
The WA Country Health Service (WACHS) is set to improve the patient experience for thousands of rural and regional expectant mums every year with the K2 Infant Guardian System being rolled out across its maternity sites.
The introduction of the innovative K2 monitoring system represents a $4.2 million investment, through the State Government's Royalties for Regions program, and will deliver considerable benefits to expectant families in country WA, including:
Improved patient involvement in the management of her and her baby's care with greater transparency of data.

Real-time, clinical data can be reviewed remotely by treating clinicians.

Greater privacy and fewer intrusions in the birth suite during labour with foetal heart pattern also able to be safely monitored remotely.

The potential for a more efficient discharge process when it's time to go home with data being readily available and remotely accessible.

Specialist support can be provided to smaller maternity sites remotely and in real-time.
Bunbury Regional Hospital – country WA's biggest and busiest site – is the first hospital to introduce the new foetal monitoring system, with the rollout continuing to all WACHS maternity sites across 2021 and 2022.
WACHS Coordinator of Midwifery Kate Reynolds said implementing the system puts the patient experience at the very centre of all that we do.
"The patient is included in every step of her care which we know improves foetal wellbeing."
"Expectant mothers will have access to this state-of-the-art, digital technology close to home, close to support networks and on country," Ms Reynolds said.
"Being able to access technology such as the K2 system is incredibly important in reducing the disparity between metropolitan and rural and remote health outcomes for mothers and newborns," she added.
This innovative use of technology to deliver healthy outcomes for regional maternity patients is one of the key priorities of the WA Country Health Service Maternal and Newborn Care Strategy 2019–24 and builds upon WACHS successes in this space, including the expansion of the highly successful Midwifery Group Practices model of care.