Celebrating excellence in palliative care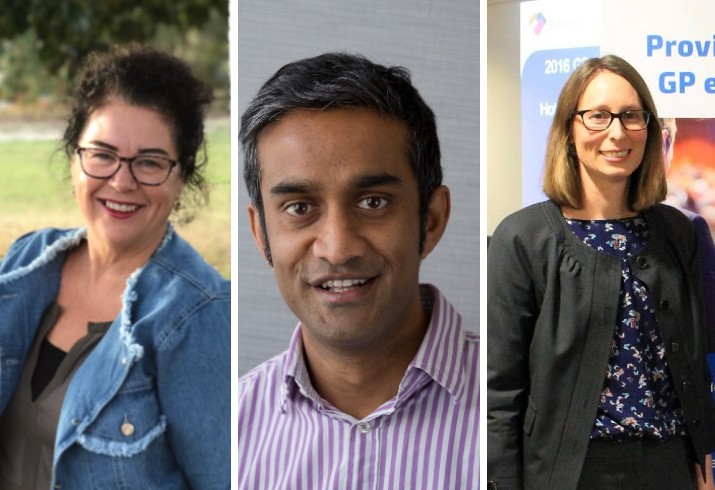 Winners of the National Palliative Care Awards 2021: Robyn Ellis, Dr Jonathan Ramachenderan, Dr Paula Moffat.
Three WA Country Health Service (WACHS) clinicians have been honoured at the National Palliative Care Awards, acknowledging the outstanding contributions each have made in their field.
Robyn Ellis, Regional Nurse Manager, Midwest, received the Excellence in Palliative Care – Rural and Remote award. Robyn was recognised for her innovative, creative and collaborative approach to providing palliative care services across a vast geographic region.
Winner in the Excellence in Generalist Palliative Care category was Dr Jonathan Ramachenderan, General Practitioner from the Great Southern.
Dr Paula Moffat took home the top honour for Excellence in Palliative Care – Community Based Care. Dr Moffat is a Consultant providing end-of-life care in the Pilbara.
In total, five of our country clinicians were recognised at the awards, with Tammy McGrath, Coordinator Aboriginal Health Workers, and Ed Gaudoin, Clinical Nurse Consultant, also nominated.
Dr Helen Van Gessel, Executive Director Clinical Excellence, said the awards highlight the quality of care and support available to regional Western Australians at the end of their life.
"The care our teams show for the patients in their care is valued and admired," Dr Van Gessel said.
"Providing compassionate care to our country communities, including those approaching and reaching the end of their life, is central to the WA Country Health Service mission."
WACHS provides palliative care services across Western Australia's seven regions, and is committed to delivering exceptional care for our communities, both on country and close to home.
Palliative care consultants are available in every region and tele-palliative care is now available direct to patients in their homes.
In recent years, WACHS has focussed on developing palliative care services to meet its patients' clinical, spiritual and social needs.
In May 2020, WACHS launched the improved Goals of Patient Care Plan, developed in collaboration with the WA Cancer and Palliative Care Network, to ensure the delivery of appropriate care that meets patients' best interests.
WACHS has also committed to bringing the best possible palliative care services closer to home for regional families by implementing the $39.7 million Palliative Care Program.
Importantly, we are also investing in palliative care support for Aboriginal people.
Aboriginal healthcare workers are vital members of our multidisciplinary palliative care teams across regional WA, working with other specialists to connect Aboriginal people with end-of-life services that reflect their spiritual connection to country and family.
In the past two years, WACHS has increased the number of Aboriginal palliative care workers to six, with further recruitment planned.