WA Country Health Service unveils Carnarvon's $19.9 million Gnullingoo Mia Residential Care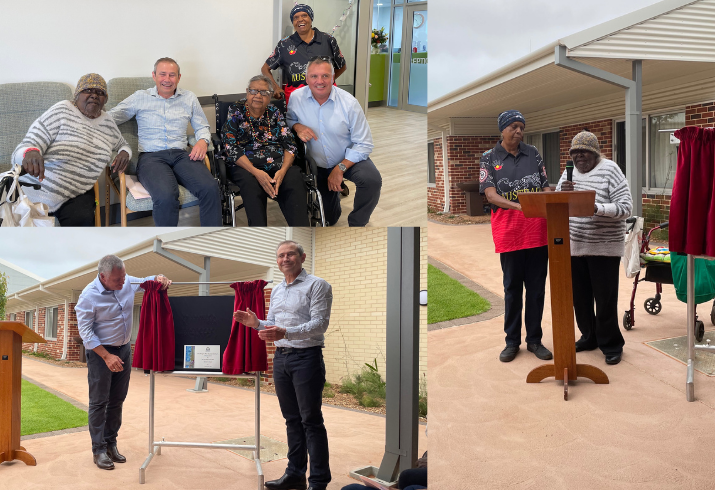 Gnullingoo Mia Residential Care opening ceremony with Health Minister Roger Cook, WACHS Board Chair Dr Neale Fong, Inggarda Elder Marion Crowe and residents
Health Minister Roger Cook has officially opened Carnarvon's $19.9 million Gnullingoo Mia residential aged and palliative care facility.
In line with WA Country Health Service's (WACHS) commitment to putting the patient experience first, the new facility has been integrated with the existing Carnarvon Health Campus to ensure residents have access to skilled aged care assessment, older patient initiatives and subacute programs, education and telegeriatrician services, while feeling comfortable, supported and at home.
Gnullingoo Mia Residential Care is equipped with 38 beds, multi-purpose rooms with bariatric capabilities and on-site accommodation for couples and family members visiting loved ones.
New residents, as well as residents transferring from Poinciana Lodge began settling into their new home from late October, getting settled into their new surroundings.
WACHS Midwest Regional Director Rachele Ferrari said the project has been designed to ensure residents feel comfortable and welcome in their home away from home.
"This facility demonstrates WACHS' commitment to putting the patient first," Ms Ferrari said.
Sensory gardens and open spaces developed by local company Gascoyne Landscaping ensure residents feel right at home.
"The design incorporates plenty of wide, open spaces with easy access to the outdoor areas and internal views of the gardens."
We want to give residents the opportunity to move around outside, relax and enjoy the outdoors as much as possible," Ms Ferrari added.
WACHS' role as an aged care provider is unique in Western Australia.
As the only State Government Health Service Provider that provides residential aged care services, WACHS currently cares for almost 600 residents in facilities across country WA, as well as supporting more than 2,400 community aged care clients through the Commonwealth Home Support Program in 2021.
Gnullingoo Mia Residential Care also provides culturally appropriate palliative care for residents with life-limiting conditions, with a $5 million contribution from the End of Life and Palliative Care initiative to ensure the facilities match the needs of people with advanced stage illnesses.
A key election commitment from the State Government, Gnullingoo Mia follows the extensive redevelopment of the Carnarvon Health Campus, completed in 2016.