Telehealth helps Meekatharra mum give birth to healthy baby boy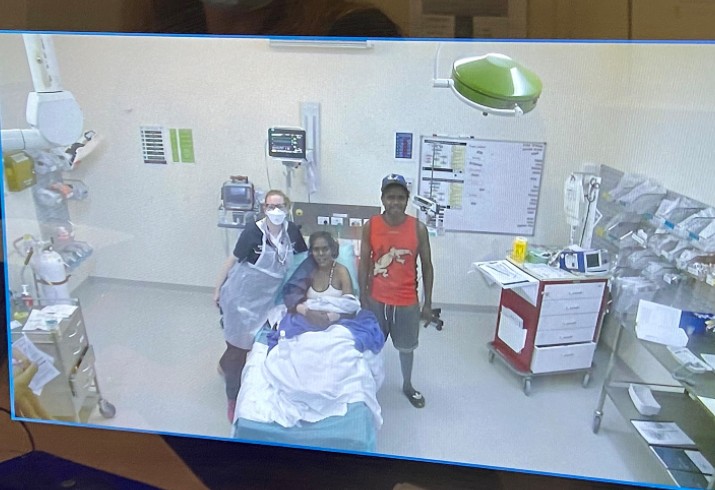 When expectant mother Zana Mippy presented to Meekatharra Hospital in the late stages of labour, it was too late for a transfer to a birthing centre. So, a senior midwife from the Midwifery and Obstetrics Emergency Telehealth Service (MOETS) team in Perth dialled in to provide support to the team on the ground through the delivery.
Though collaboration, the team delivered a healthy baby boy. After the birth, and a successful first feed for the new arrival, the family was transferred to Geraldton for ongoing postnatal care.
Launched on 14 February 2022, MOETS is a WA Country Health Service (WACHS) telehealth service providing 24/7 to support midwives, obstetrics teams and non-birthing sites across WACHS via a central 'virtual' clinical hub.
Midwest Regional Director Rachele Ferrari said MOETS is an important service for country West Australians.
"MOETS ensures our font-line clinicians have real-time access to highly specialised clinical advice and support," Ms Ferrari said.
"In Meekatharra, normally a non-birthing site, the nurse in the room said it was fantastic to know she had MOETS support to guide the team on the ground through the delivery."
MOETS is a function of the WACHS Command Centre, which delivers a digitally-enabled, flexible and dedicated specialist clinical workforce to country hospitals and nursing posts in real-time. The Command Centre supports country doctors and nurses, improving outcomes for patients and keeping care closer to home.
Kylie Bosich, Director WACHS Command Centre, said MOETS provides 24/7 specialist obstetric and maternal care.
"Using videoconferencing and high-tech information technologies, MOETS provides timely specialist advice and support available to front-line clinicians," Ms Bosich said.
"As was the case in Meekatharra, the MOETS team is on hand to provide obstetric support for non-birthing sites for unplanned maternity and gynaecological presentations and can assist with maternity and neonate transfers.
"MOETS clinicians are also able to provide second clinician reviews of Cardiotocographs (CTGs) for birthing sites with only one midwife and can facilitate consultations with on call obstetricians as needed."
Across WACHS, telehealth technology delivers a range of services including specialist emergency support to staff in country hospitals treating acute emergency patients, including those presenting with mental health concerns; inpatient consults through a virtual ward round; outpatient consults with specialists, as well as training and education for health staff and consumers.