WA Country Health Service congratulates the 2023 WA Australian of the Year, Professor Samar Aoun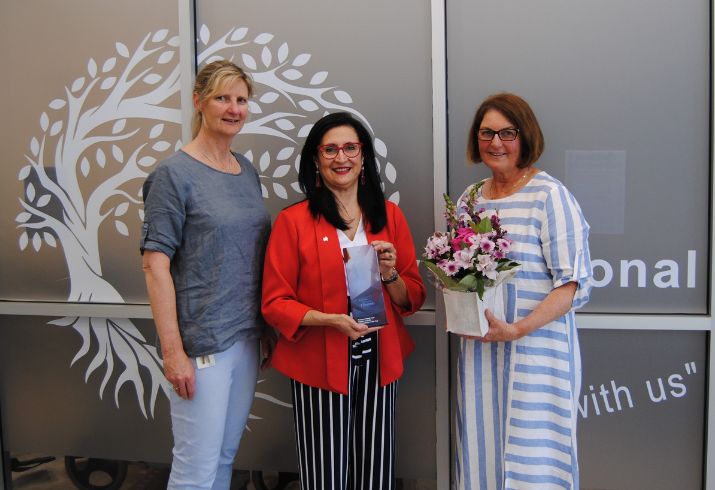 Professor Samar Aoun with Bunbury Regional Hospital Director of Strategy and Service Development Jo Moore and South West Regional Director Kerry Winsor
Recently, staff at Bunbury Regional Hospital were able to congratulate Professor Samar Aoun, the 2023 WA Australian of the Year.
Professor Aoun was recognised last month for her extensive work advocating for a person-centred approach to end-of-life care in Australia.
Now internationally recognised as a leader in palliative care, Professor Aoun's many accolades include the Perron Institute Research Chair in Palliative Care, President of Motor Neurone Disease Australia and a board member of Palliative Care WA, among many others.
WA Country Health Service (WACHS) is proud to work with clinicians like Professor Aoun whose work has transformed care for country communities.
Through her role as co-founder and chair of the South West Compassion Communities Network, the WACHS South West team has been able to link trained volunteers with families and individuals needing support and reduce the need for patients to be admitted to hospital.
During a visit to Bunbury Regional Hospital, South West Regional Director Kerry Winsor was able to congratulate Professor Aoun in person for her momentous achievement.
"We want to congratulate Professor Aoun and also thank her for her leadership and commitment to vulnerable country patients," she said.
"Not only are our patients now more empowered in their end-of-life decisions, but our staff are more equipped to support terminally ill patients and those facing bereavement.
"The work Professor Aoun has pioneered highlights the importance of putting research into practice to improve health outcomes for country patients."
In a volunteer capacity, Professor Aoun also established and chaired the WACHS Research and Ethics Committee from 1994 – 2017 and was a member of the Bunbury Health Service Board of Management from 1994 – 2000.