Kalgoorlie Health Campus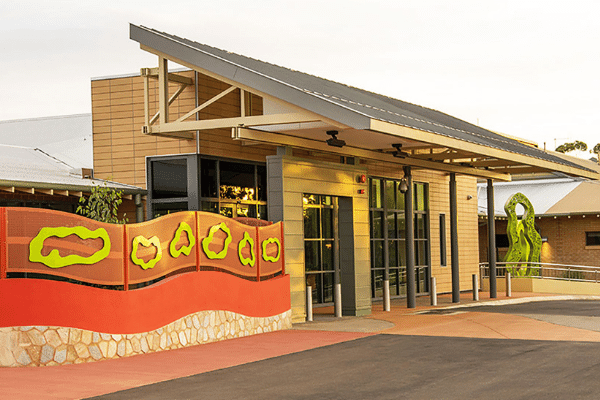 Kalgoorlie Health Campus address and contact details (Health Direct).
Clinical services provided by the hospital include:
Acute medical and specialist physician services
Acute psychiatry and a six bed authorised Mental Health Inpatient Unit
Acute surgical including general, orthopaedic and gynaecological surgery
Allied health services
Chemotherapy and cancer services
Day surgery
Diabetes education
Emergency medicine
High Dependency Unit
Medical imaging
Obstetrics and gynaecology
Onsite pathology provided by PathWest
Outpatients Clinic
Paediatrics
Palliative care
Pharmacy
Renal dialysis and renal services
Theatre
Visiting Specialists Clinic
Kalgoorlie Outpatient Clinic
Services offered through the Kalgoorlie Outpatient Clinic are:
Antenatal
Antenatal high risk
Audiology
Chemotherapy services
Diabetes
Dietetics
Fitness to Drive: Medical Driver's Licence Clinic
General medicine
General surgery
Minor surgical procedures
Monthly oncology clinics
Neurology
Obstetrics and gynaecology
Orthopaedics
Paediatrics
Podiatry
Kalgoorlie Outpatient Clinic offers a free service to all patients who have a current Medicare Card for the above services.
Kalgoorlie visiting specialists
Visiting specialists regularly visit Kalgoorlie. Clinics are conducted in the Visiting Specialist demountable building.
Clinics available through the Visiting Specialist Clinic (VSC) are:
Cardiology
Dermatology
ENT
Genetics
Oncology
Ophthalmology
Pacemaker Clinic
Paediatrics
Palliative care

Cardiology
Diabetes
Endocrinology
Respiratory
Surgeon

Rheumatology
Urology
Vascular
Private patient fees may apply to some or all of the above clinics.