Merredin Health Service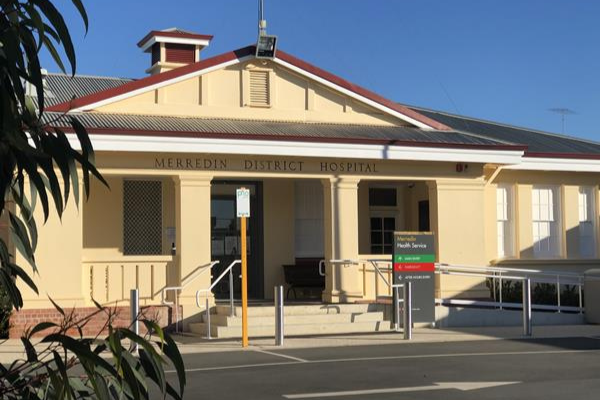 Merredin Health Service address and contact details (Health Direct).
Services provided by Merredin Health Service:
24/7 Emergency Department
Acute medical services
Surgical services
Outpatients and post-acute services including rehabilitation
10 bed high band residential care including respite
10 bed low band residential care
Medical imaging including ultrasound and Orthopantomogram (OPG)
Home and community care including Meals on Wheels
Patient Assisted Travel Scheme (PATS) services
Pathology services provided by PathWest
Mental health services provided by the Mental Health team
A range of specialist services visit Merredin Health Service. All appointments with specialists require a referral form from a GP. For dates of visiting specialists, please contact Merredin Health Service reception on (08) 9081 3222.
Specialist services include:
Aboriginal health cardiology
Aboriginal health endocrinology
Audiology
Clinical psychology
Consultant psychiatry
Dermatology
General surgery
Ophthalmology
Orthopaedic surgery
Paediatrics
Paediatric clinical psychology
Podiatry
In addition, the Eastern Wheatbelt Primary Health Service provides a range of population health services in Merredin. You can self-refer to the majority of these services or receive a referral from your GP. Services provided include:
Child health clinics and services
Child development services
Community midwife services
School health services
Allied health services including:

dietetics
health promotions
occupational therapy
physiotherapy
podiatry
speech pathology
social work

Aboriginal Health Services
Please contact the Eastern Wheatbelt Primary Health team on (08) 9081 3222 for further information.