Completed project - Busselton Health Campus

Project overview
The new $120.4 million Busselton Health Campus was officially opened by Premier Colin Barnett and Health Minister Dr Kim Hames on 4 March 2015.
Funding includes $40.5 million from the State Government's Royalties for Regions program and a $2.5 million contribution from the Commonwealth's Hospitals and Health Fund to expand the dental clinic.
Building a world-class hospital is no easy task and piece by piece the South West community has witnessed the construction of the new building which will provide outstanding health care closer to home for local communities.
The new campus includes:
an expanded emergency department (ED) with 15 treatment spaces
expanded day ward and day surgery facilities including 84 beds with 64 overnight beds (with six high-care observation beds and four palliative beds), six renal dialysis places and 14 same-day beds
two operating theatres
two birthing suites
a procedure room
an expanded dental clinic, medical imaging, outpatient and pathology facilities
New campus, new telephone numbers
Important contact numbers for Busselton Health Campus:
In an emergency call 000
Switchboard: (08) 9753 6000
Mental Health: (08) 9753 6400
Community Health: (08) 9753 6500
Improved services
The Busselton Health Campus offers enhanced services in modern facilities with superior care for patients and a better working environment for staff.
Expanded emergency department
The improved ED includes 15 treatment areas (an increase on the 11 bays at the previous hospital) which includes two resuscitation bays, two paediatric bays, acute bays, procedure room and a Fast Track area to treat patients with non-urgent complaints to help decrease waiting times and ED length of stay.
Inpatient rooms
The majority of rooms are single occupancy and all have the new Patient Entertainment System.
Patients will be among the first in WA to experience 21st century ward rounds, with the traditional doctors visit boosted by state-of-the-art bedside health information.
The Patient Entertainment System, which doubles as a clinical computer, allows patients to access television, radio and internet 24 hours a day, seven days a week.
Available in all in-patient rooms, the new touch-screen systems also provide patients with basic health and hospital information.
In the future it will allow clinicians to view and update medical records and review a patient's scans and test results right at the bedside.
Maternity
The new maternity wing includes two birthing suites and six perinatal rooms with a thoughtful mix of smart design and state-of-the-art medical facilities.
Each birthing suite has a deep oval bath to assist in labour and provide the option for water-birth for women assessed as being suitable.
Two of the perinatal rooms also have a partner stay option with a double electric bed.
Medical imaging (X-rays)
Patients can access a full range of services including X-rays, ultrasound and CT scans in the expanded medical imaging department. A new 128-slice CT scanner offers the most advanced technology in the South West, with the lowest radiation dose and an increased range of interventional and diagnostic examinations including coronary angiograms.
Multi-purpose courtyard
An outdoor therapy courtyard has been designed as a multi-purpose area for use by paediatric and adult services.
Child development services can make use of play and other equipment for individual and group programs.
Dental services
The expanded dental clinic has increased capacity to six chairs from the existing two. This will help improve the number of patients that can be seen in the South West region.
PathWest
PathWest operates the only laboratory in the Busselton area supporting the community's needs around the clock. The new Busselton Health Campus facility offers state-of-the-art diagnostic instruments and a vastly improved patient experience.

Did you know?
Fun facts about Busselton's new health campus:
It was anticipated that there will be more than 20,000 emergency department presentations from July 2015 to June 2016.
The hospital laundry can wash the equivalent of 600 average weekly household washes. It can wash 148kg an hour and process around 4000kg of linen each week.
The building has 326 km of communications cabling (which is the equivalent of driving from Busselton to Northam).
The new kitchen can produce up to 500 meals per cook cycle.
It has 9415m² of vinyl flooring.
The campus has 135 km of power and lighting cabling.
The new campus is almost twice the size of the old hospital.
It has 3100 power outlets.
More than 8300 pieces of equipment have been moved into more than 600 rooms and areas.
The team leading the development has more than 200 years of clinical, technical and administration experience.
A 140,000 litre tank supplies the fire, diesel and electric booster pumps.
More than 500,000 man hours have been spent on the new hospital.
Planning and development
A number of groups were involved in the planning and development of the campus. Construction work began in 2012.
WA Country Health Service has worked closely with the community and other health care providers throughout the development to ensure the new campus meets real community needs.
The Community Reference Group has also helped to guide and plan for the new health campus. Representatives include:
ministerial
environmental
Busselton Chamber of Commerce and Industry
Shire of Busselton
South West Development Commission
GP Down South
Busselton Hospital Medical Advisory Committee
Naturaliste District Health Advisory Council
South West Aboriginal Medical Service
Silver Chain
St John Ambulance
Environmental planning
Busselton is one of Western Australia's popular tourist locations, and the unique local environment is a very special part of that. The development of the Busselton Health Campus has involved careful consideration for the enhancement and management of the natural environment.
The WA Country Health Service engaged Coffey Environments to identify the environmental needs of the site. They have completed an assessment report including Significant Flora and Fauna Values, surveys of the tree canopy and of the Western Ringtail Possum population.
The project has received approval from the Federal Department of Sustainability, Environment, Water, Population and Communities and appeals against the required State Vegetation Clearing Permit have been dismissed. Approvals are subject to a comprehensive management plan with particular focus on the protection and preservation of the Western Ringtail Possum population.
A representative nominated by local environmental groups also sits as a member of the Busselton Health Campus Development Community Reference Group. This role provides communication with local environmental groups, expertise and assistance along with additional local knowledge in this important area.
Use the links below to view the latest environmental reports.
Tree and Revegetation Reports
Western Ringtail Possum Surveys
Environmental reporting
This project has approval under the Environment Protection and Biodiversity Conservation Act 1999. A condition of this approval is to publish annual reports on the project website.
2015 Environmental Protection and Biodiversity Conservation (EPBC) reports:
2014 Environment Protection and Biodiversity Conservation (EPBC) reports:
2013 Environment Protection and Biodiversity Conservation (EPBC) reports:
Maps - floor plans
Here you can find mud maps detailing the location of services provided in the new Busselton Health Campus.
Busselton Health Campus is one and a half times the capacity of the existing Busselton Hospital. With modern, well equipped facilities including an expanded emergency department, upgraded maternity services, a new surgical services centre to support more elective surgery and improved medical imaging services all under one roof, it will provide a state-of-the-art workplace to rival any modern city hospital.
The site plans below can be printed for your own use and provide a birds eye view of how all the hospital services fit together.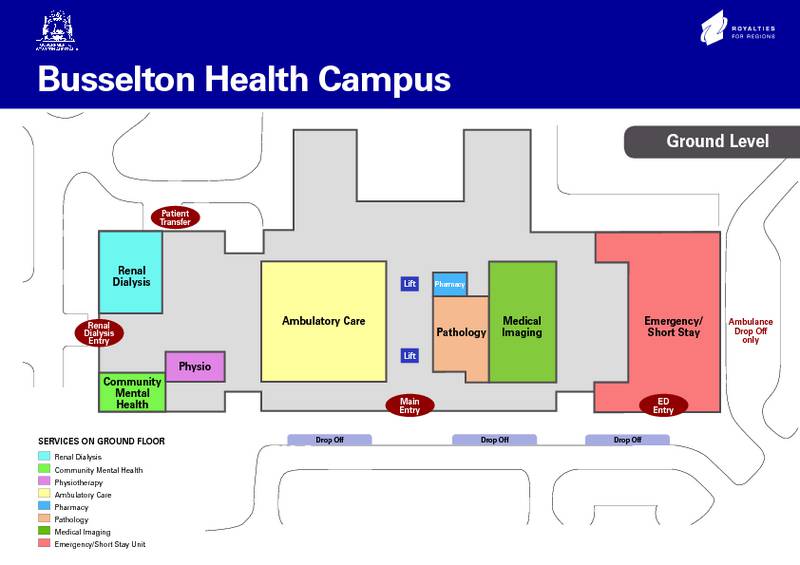 Photo gallery
Take a look inside the Busselton Health Campus; a state-of-the-art facility to rival any modern city hospital.
Frequently asked questions
Here you will find a list of frequently asked questions about the new Busselton Health Campus project.
What is the Busselton Health Campus?
The brand new $120.4 million Busselton Health Campus (BHC) is part of the largest public hospital building program seen in the southern hemisphere. As well as providing outstanding healthcare for south west communities, it is a state-of-the-art workplace to rival any modern city hospital.
It includes:
an expanded emergency department
expanded and improved ward and day surgery facilities
modern operating theatres and birthing suites
dental services
improved renal dialysis services
Other services include a community mental health centre, community aged care, ongoing care and rehabilitation following discharge from hospital, child development, child health and immunisation.
BHC provides health care closer to home for the rapidly growing south west community in a setting to rival any modern city hospital.
Where is it?
The new campus is situated on the existing hospital site. Access to the main entrance, emergency department and all other services is from Mill Road.
What is the emergency department like?
BHC staff and patients now benefit from an improved emergency department. It has 15 treatment areas including two resuscitation bays, two paediatric bays, a Fast Track area and general acute bays.
What services are available at the campus?
The BHC is a modern one-stop health care hub for the community of Busselton and surrounding towns. Services include:
Eighty four beds with 64 overnight beds (including six short stay observation and four hospice beds), six renal dialysis chairs and 14 same day beds.
emergency department expanded to 15 areas
expanded day ward with day surgery facilities
two modern operating theatres
one procedure room
two birthing suites
medical imaging services
expanded pathology services
dental services
expanded outpatient consulting rooms
expanded conference and meeting room facilities
What surgery will I now be able to get done in Busselton?
A range of elective surgery for public patients is provided at the campus including:
ophthalmology
orthopaedic
gynaecology
Ear, Nose and Throat
general surgery
Some patients requiring higher levels of care and other needs will continue to be supported by the Bunbury Regional Hospital and visiting specialists.
What happened to the old hospital building?
The demolition of the 40-year-old Busselton Hospital took place over several weeks and included the careful removal of asbestos in compliance with relevant Commonwealth and State laws, Australian standards and codes of practice.
The site now provides essential additional car parking spaces and associated landscaping.
The works were carried out by contractors Doric Constructions, the builders responsible for construction of the new facility.
I knew where everything was in the old hospital, how will I find my way around in this new facility?
Busselton Health Campus is lucky enough to have 'Meet and Greet' volunteers who will be based in the main reception area. These volunteers are on hand to help guide you through the new facility.
What is telehealth and how will that help me?
Telehealth provides real-time video link-ups between specialists and patients enabling patients anywhere in WA to gain access to the best medical treatment in the state and reducing the need to travel.
The campus will provide secure, high-definition telehealth services providing the link between the patient and consultant in any location with a similar unit.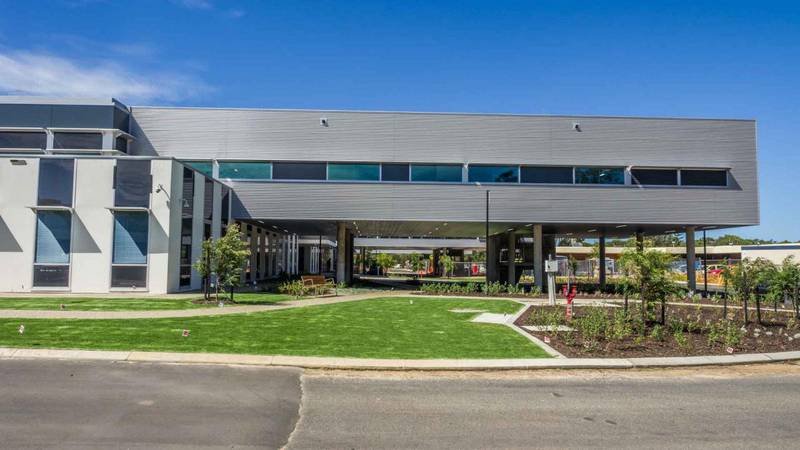 News